link copied to clipboard
saving changes, please wait..
page successfully updated
error saving changes
file size exceeds 512kb.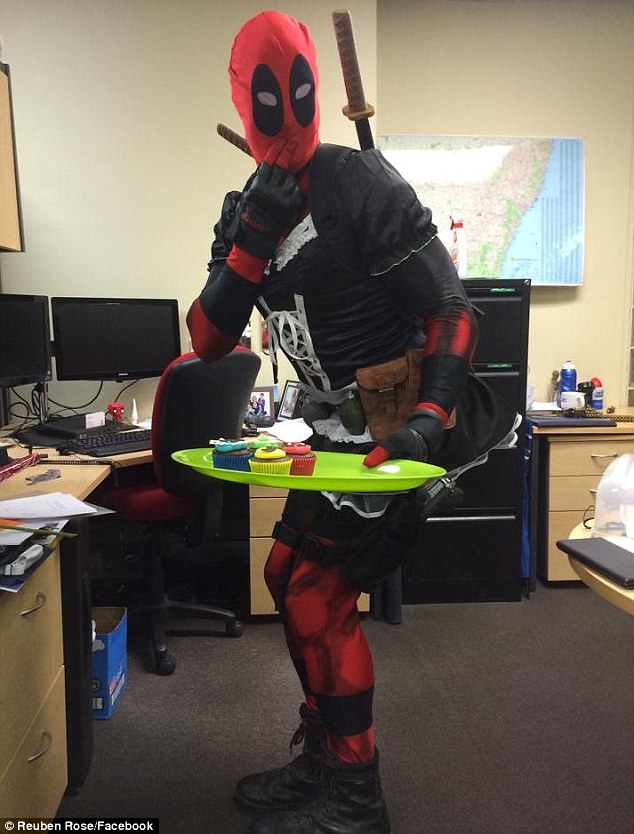 Raised by 0 people in days for Bear Cottage
Biggest Supporters
$530.00
Asset Insurance Brokers
$354.25
Random Train Commuters
Deadpool's Delightfully Debaucherous Dance-off and Drama
Story
Righto, folks. Third year and I think it's time we kicked it up a notch. Introduction is here and the reward tiers are below.
The first year we got to $1,000 which became over $3,000 but that was with the assistance of the media and a small misunderstanding with the Blacktown police.
The second year we got to $1,700 because you people are amazing.
But this year? This year, when Bear Cottage needs you most, I've stepped it up. I'm recruiting others to see if we can hit a massive $2500 through costumed shenanigans. This is a team, but not a lame one like the Avengers, but an awesome one, like the Chinese toy knock-off which had Spiderman, Shrek, Lightning McQueen and Captain America all in the one package.
I've said it before. I'll say it again. Bear Cottage exists to stand between the dreadful beast called Tragedy and its victims- families of terminally-ill children- and kick that beast steadily in the bollocks until its fearsome and crushing blows land, instead, as a bit of a thump. It's a fight nobody's ever going to win, but that doesn't mean it shouldn't be fought. It helps families know they are not alone- not just supporting the sick child and their wishes, but allowing them to really live, laugh, learn and love, which would look good on a wall decal. But also cares for the families, connects them to other families experiencing the same situations, cares for the parents and the siblings throughout, and brings positivity and joy to a place where you wouldn't expect it.
So don your best bollock-kicking boots, kids, and buckle up. The testicles we're trying to kick are large and fearsome and there's plenty of room for you to get in on the action.
It's time to be a freakin' superhero.
Update
Each year there are shenanigans on the train and this year is no exception. At every tier I will perform an act of public embarassment, each more ridiculous than the last. This year's theme is "Milkshakes".

At $1000, I will hold aloft a foam skull, Hamlet Style, and recite "Milkshakes" in Olde English, as if to Yorrick, to all attending commuters, carriage-to-carriage.
At $1250, I will fashion the two official Bear Cottage collection cans into a bra and then gather further donations whilst playing "Milkshakes" on a portable speaker.
At $1500, I will learn to twerk and find random people to twerk with, which I will film and turn into a brief clip with "Milkshakes" playing over the top.
read more
All
Donations

0
Activity

0


There is nothing to show from any feeds at the moment.

There are no current donations or activities for this user.
The fitness feed has been disabled by the page owner.

Bear Cottage
Bear Cottage is a children's hospice – a very special place that's dedicated to caring for children with life-limiting conditions and their famililes. Bear Cottage is also the only children's hospice in NSW, one of two in Australia.   At Bear Cottage we believe that life, however brief, should be enriched, enjoyed and celebrated. Ours is a home full of special moments and cherished memories. Here, life is living.   Bear Cottage provides support, respite and end of life care for children with life-limiting illnesses and their families. An initiative of the Children's Hospital at Westmead, Bear Cottage is a medically supported home away from home.   At Bear Cottage our special children find love, care, laughter, fun and support. This holistic approach is achieved not just through regular respite and end-of-life care but also specialised camps, bereavement support and much more.   Bear Cottage is located on Sydney's Northern Beaches in Manly. It is designed as a large beach home, with specialist medical care available 24 hours a day. Its location in Manly ensures families and children can rest in the tranquil surroundings near all the attractions and amenities of one of Australia's traditional holiday destinations. [b]Bear Cottage was estabished by donated funds and continues to rely on support from the Community to provide the programs that make Bear Cottage unique. Families do not have to pay to stay at Bear Cottage.[/b]
read more
Created by
Reuben Rose
for Bear Cottage

$2,621 of $2,500 target
0 people in days
Please make sure you are LOGGED IN. You can only join a Team Leader page if you are logged in and have an Individual page created. If you do, it will be displayed here once you've logged in. If you don't, please return to the 'home page' and follow instructions on how to create your Individual page.